Brasserie-Bar
Table with a view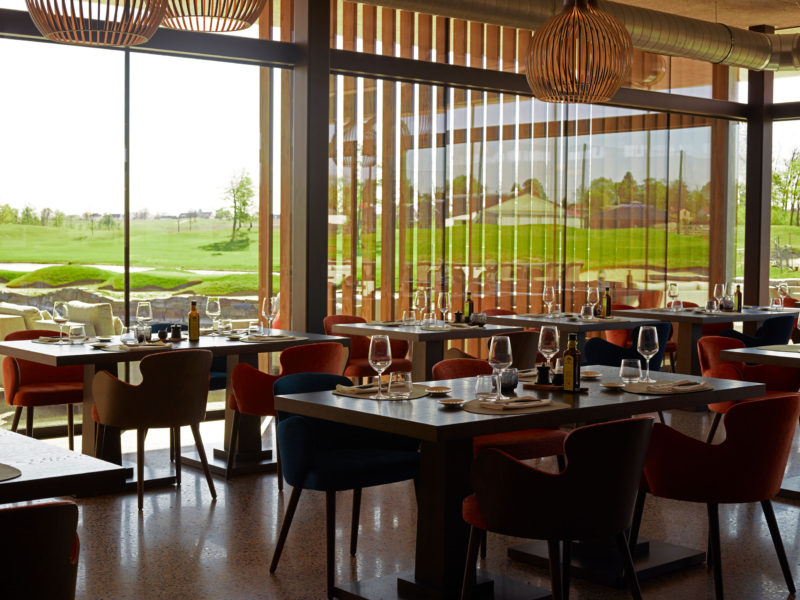 Imagine: there you are, feet under the table, sipping a cocktail, with endless views out over the wonderful natural surroundings of Sterrebeek's latest new course.
Welcome to The National Brasserie in Sterrebeek, just a stone's throw from the Brussels ring road and a 5-minute drive from Zaventem! Since it opened in the spring, The National Brasserie has become the latest must-visit dining venue in the Brussels area, where you can fully enjoy the chefs' wonderfully understated dishes.
You're welcome to visit The National Brasserie for a delicious set menu or quick lunch. During the summer months, you can enjoy our offerings out on the sublime terrace, while in the winter, there's always a fire crackling in the open fireplace. Outside restaurant hours you are invited to spend time in the bar, enjoying our Lime-oncello house cocktail or sampling a refined selection of tapas. All in the exclusive setting of The National Golf.
The enthusiastic reviews we have received from business diners, golfers and families speak volumes. The easily accessible brasserie kitchen and weekly lunch menu offer the right answer to appetites of every size.
Do you want more information? Do not hesitate to visit the website of The National Brasserie and Bar!

Opening hours (subject to changes)
Kitchen
Monday
closed
Tuesday
from 12:00 to 17:00
Wednesday
from 12:00 to 17:00
Thursday
from 12:00 to 21:00
Friday
from 12:00 to 21:00
Saturday
from 12:00 to 21:00
Sunday
from 12:00 to 20:00
Opening Hours (subject to changes)
Bar
Monday
closed
Tuesday
from 10:00 to 18:00
Wednesday
from 10:00 to 18:00
Thursday
from 10:00 to 22:00
Friday
from 10:00 to 22:00
Saturday
from 10:00 to 22:00
Sunday
from 10:00 to 21:00